Detroit Lakes Middle School
Telephone Number: 218-847-9228
Fax Number: 218-847-0057
---
Click on the icon below for the Distance Learning Plan for Detroit Lakes Public Schools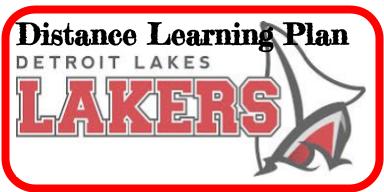 Important Information Regarding DLMS Closure/Summer Construction
Please
Call Ahead if You Need to Stop by the School. Office Hours May Vary Over the Summer.
Material Drop Off:
If you need to drop off materials please enter the north entryway of the middle school between 8:00 AM and 4:00 PM. Place materials in the designated drop off area.
Food Service

: School breakfast and lunch will be provided free of charge to Detroit Lakes students 18 years of age and younger. This service will continue throughout the summer. Each student will receive lunch for that day and breakfast for the following day. Meals are available for pick up only at the following locations:
M-State Detroit Lakes Campus (NE corner by recycling bins) - 7:00 AM - 1:30 PM
Richwood Store - 11:00 AM - 12:30 PM
2019-2020 Online Activity Registration
Laker activity registration is now online. The link is located above. A guide for registration can be found on the Middle School website in the upper right hand corner, under "Latest News". The student's six-digit Skyward ID will be required in order to register. Please access the student's Skyward account for this information.
7th Graders and any student who did not participate in activities during 7th grade will need to have an athletic physical on file at the Detroit Lakes Middle School before they will be able to register online. The physical needs to be completed on the Minnesota State High School League form. Well-child checks do not qualify as a sports physical.
**Before online registration can be completed, the athletic physical needs to be on file at the Middle School. The physical form can be dropped off at the Middle School and deposited in the locked gray box outside of the office.
June
Mid June - DLMS 6th Grade Homeroom Teacher Letter Mailed
Late June - DLMS 2020/2021 Student Schedules Released Via Skyward
August
Early/Mid August - DLMS 2020/2021 Newsletter Mailed
Monday, August 17 - DLHS Sports Open
Monday, August 24 - DLMS Sports Open
Monday, August 31 - New Teacher Workshop
Parent Guardian Guide and Refusal for Student Participation in Statewide Testing