Detroit Lakes Middle School
Telephone Number: 218-847-9228
Fax Number: 218-847-0057
---
Click on the icon below for the Distance Learning Plan for Detroit Lakes Public Schools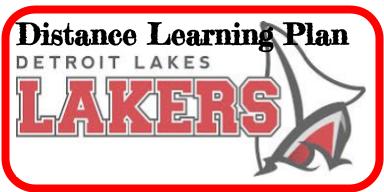 Important Information Regarding DLMS Closure
Our Office Hours May Vary During This Time. Please
Call Ahead if You Need to Stop by the School.
Food Service

: School breakfast and lunch will be provided free of charge to Detroit Lakes students 18 years of age and younger. This service will continue while schools are closed. Each student will receive lunch for that day and breakfast for the following day. Meals are able to be picked up, and will be brought to you curbside at the following locations:
-Richwood Store from 11 AM -12:30 PM Monday - Friday
-Roosevelt/Middle School Parent Pick Up 7 AM - 5 PM Monday - Friday
-High School bus loop 7 AM - 5 PM Monday - Friday
*For information on meal delivery, please contact Food Service at 218-847-2309.
2020-2021 Registration Forms

: Current 8th grade students, please turn in your 9th grade registration packets to the DLHS or DLMS main office. Next year's 6th, 7th and 8th grade registration forms can be faxed, dropped off at the main office, or sent via email to cweigel@detlakes.k12.mn.us - (A picture of the form from a cell phone works just fine!)
Athletics

: Minnesota State High School League (MSHSL) has suspended all school activities while schools remain closed. Information regarding start dates will be provided as we receive it. Athletics/activities will not proceed until students return to regular school schedules. Should spring athletics/activities be completely cancelled, full refunds will be provided to those students who have already paid for a spring sport/activity.
2019-2020 Online Activity Registration
Laker activity registration is now online. The link is located above. A guide for registration can be found on the Middle School website in the upper right hand corner, under "Latest News". The student's six-digit Skyward ID will be required in order to register. Please access the student's Skyward account for this information.
7th Graders and any student who did not participate in activities during 7th grade will need to have an athletic physical on file at the Detroit Lakes Middle School before they will be able to register online. The physical needs to be completed on the Minnesota State High School League form. Well-child checks do not qualify as a sports physical.
**Before online registration can be completed, the athletic physical needs to be on file at the Middle School. The physical form can be dropped off at the Middle School and deposited in the locked gray box outside of the office.
Monday, March 30 - Friday, May 4 - Distance Learning
April
Friday, April 10 - No School

Thursday, April 30 - DLMS 5th Grade Choir/Band Concert (Cancelled)
Parent Guardian Guide and Refusal for Student Participation in Statewide Testing